Côte d'Azur: Nice, Carnival de Nice is about to open!!
From the middle of February, "Carnival de Nice" will be held.
In this festival, a lot of participants come from across the globe.
I participated it last year, it's really very enjoyable because we can see many large floats and dance together.
The floats are different every year.
These photos were taken in 2014.
[sponsored site]
This is the most famous chef in 2014.
The floats are modeled after remarkable persons of that year.
The main place is "Place Massena" that locates at the center of Nice.
The parade starts here and go to the road along the see, named "Promenade des Anglais".
You can see more information at the following page.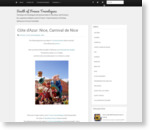 South of France Travelogues: Côte d'Azur: Nice, Carnival de Nice
The site introduce the Carnival de Nice with photos.
And this page has the link to the official site of Carnival de Nice
[sponsored site]